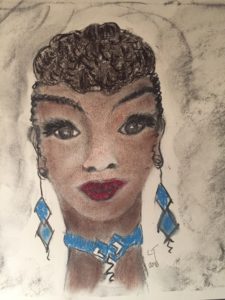 This art interpretation applied to Eunice was inspired solely by her hair style. So elegant and fitting to her personality. Requesting to write about her in my blog may have been more than her political instincts would allow.  Instead, I am offering this short blog and conceptual image of her because I believe she commands attention and respect for her massive level of commitment and work to political activism.
If you don't know Eunice, she is a Democrat. She comes from a strong family based in the civil rights era. If you want to know how democratic she was in the last election (2016), all you had to do was ask her about Bernie Sanders. Her comment was simple and straight forward, "he is not a Democrat" pure and to the point. More than that was the body language that spoke to my sense of her depth of belief in her authentic candidate, Hillary Clinton. She was a party loyalist.
All I have from her is something I copied to my phone as a response from her some years ago. "Hello Lillian: I am fine, but very busy. I will send you the information for the swearing in reception, for Eugene Weeks, I just finished my first fundraising for Lillian's List. It was very successful.  We raised a total of $650,000, not bad in such a short period of time. We also celebrated the 90th Anniversary of Women's Sufferage, on Tuesday night at the Goodwin House. We also raised around $350,000 for the candidates, so you see, I am doing what I love to do, and I am getting paid for my service."
She is a soldier that I see at the polls every time I vote. Eunice Rudolph Jones is a player and for those young women who come up in the Democratic or other political ranks could look to her as a role model. She may shy away from these kinds of articles but no denying she deserves acknowledgement. Eunice is our protagonist!
Article and ART by Lillian L. Thompson for Lillianonline.us